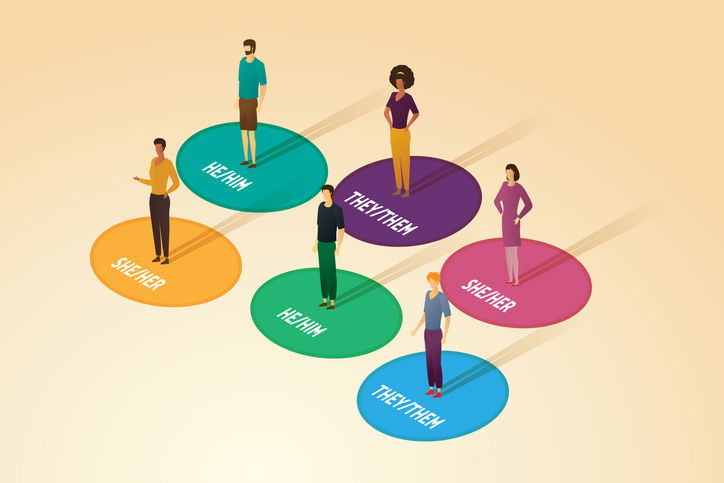 Seventh Circuit Court Upholds Teacher's "Forced Resignation" for Refusal to Use Transgender Students' Preferred Names and Pronouns Claiming Religious Discrimination
On April 7, 2023, the Seventh Circuit Court of Appeals (which covers Illinois, Indiana, and Wisconsin) issued an important and ground-breaking decision in favor of Brownsburg Community School Corporation's directive that teachers call transgender students by their names and pronouns as registered in the school's official student database rejecting a teacher's claim that the rule violated Title VII's prohibition against religious discrimination. Kluge v. Brownsburg Community School Corp., (7th Circuit, 2023) Additionally, the Seventh Circuit ruled that the school did not have to accommodate the teacher's religious belief and practice by allowing him to refer to transgender students using their last names only. According to the Court, such an accommodation constituted an undue hardship for the school.
John Kluge ("Kluge") was employed at Brownsburg high school as a music and orchestra teacher beginning August 2014. The high school became aware that several transgender students were enrolled in the 2014-15 incoming high school freshman class. District leadership "reached a firm consensus" that transgender students face significant challenges in the high school, including diminished self-esteem and heightened exposure to bullying requiring the school to enact practices and policies to address these challenges.
In May 2017, Kluge was one of several teachers who met with the principal to express religious objections to transgenderism and the school's requirement of referring to transgender students by their PowerSchool (student database) names and pronouns. Kluge said that he is a Christian, believes gender dysphoria is sinful, and believes that promotion of gender dysphoria itself is sinful. Kluge requested two accommodations of his religious beliefs: (1) that he be allowed to refer to all students by their last names only, and (2) that he not be responsible for handing out gender specific orchestra uniforms to students. The school Superintendent and Principal initially agreed to both accommodation requests.
As can only be expected, many students, teachers, and parents became upset by Kluge's "last names only" practice. Students claimed that Kluge still used incorrect gendered language during the school year, which they found disrespectful and hurtful. Transgender students said the use of their last names only made them feel more isolated and targeted. Additionally, the school received complaints that Kluge did not always use last names, but occasionally would "slip up" and use first names or gendered honorifics. Even cisgendered students said the last names usage was awkward, uncomfortable, and most were aware why Kluge was only using students' last names. As a result of the many complaints and concerns that students were being harmed and the learning environment disrupted, the school administration came to the conclusion that the accommodation was not working in practice. The school informed Kluge, and all other teachers, that effective the end of the 2017-2018 school year, the last names only accommodation would end. With continued objections to the school's discontinuation of his accommodation, Kluge submitted his resignation effective August 2018. Thereafter, Kluge sued the school claiming, in relevant part, Title VII religious discrimination, failure to accommodate and hostile work environment.
An Indiana federal district court judge granted the school's summary judgment motion dismissing Kluge's lawsuit in its entirety from which Kluge appealed. In deciding Kluge's appeal, the Seventh Circuit Court first addressed Title VII's requirement that employers provide accommodation to an employee's religious beliefs. The Court, relying upon prior Supreme Court interpretations and precedent, stated that it is unlawful for an employer not to make reasonable accommodations [to an employee's religious observance or practice], short of undue hardship. Undue hardship, said the Court, is anything more than a de minimis cost to the employer. Brownsburg asserted that Kluge's accommodation request was an undue hardship because it burdened the school's education of all students and created a negative impact on transgender students. Additionally, the school claimed that Kluge's last names only practice exposed the school to the risk of a Title IX claim from transgender students, which risks also constituted an undue hardship.
According to the Court, the school need only show that it would be an undue hardship to accommodate Kluge's theology in view of their established theory and practice. Undue hardship is not limited to financial costs and business interests. The school established undue hardship by producing evidence that the "last names only" accommodation request conflicted with the school's philosophy of affirming and respecting all students, resulted in students feeling disrespected, targeted and dehumanized and created disruptions to the learning environment. "Allowing Kluge to continue in the practice [last names only] thus placed an undue hardship on Brownsburg's mission to educate all of its students and its desire to treat all students with respect and affirmation for their identity in the service of that mission."
The Court then moved to Brownsburg's claim that the risk of a Title IX sex discrimination lawsuit by transgender students based on a theory of sex-stereotyping also constituted an undue hardship. While not rejecting this assertion, the Court declined to decide this issue stating that the school already met its undue hardship burden by establishing harm to students, and school disruption from the "last names only" practice and "[i]t is simply unnecessary to reach this issue [Title IX claim] in this case."
The Brownsburg decision supports educational entities' ability to require its teachers, faculty and staff to comply with established policy and practice on using transgender students' preferred names and pronouns. Under this case, educational employees who assert they cannot or will not do so because of religious beliefs and practices can be subjected to disciplinary action.
While the employer has the burden to establish that an employee's religious accommodation request is an undue burden, this Court has made clear that this burden is minimal. Please contact your Robbins Schwartz attorney with any questions regarding this decision and its application to your workplace.