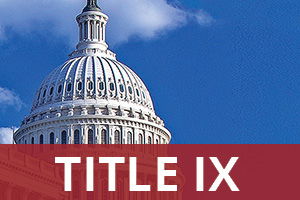 Imminent Revisions to Title IX Regulations
President Biden issued an Executive Order on March 8, 2021, requiring the Secretary of the Department of Education to review all existing regulations, policies, and guidance documents relating to Title IX. The Executive Order set forth a 100-day timeline for the Department of Education to complete its review.
On April 6, 2021, the Department of Education's Office for Civil Rights (OCR) published a letter to students, educators, and other stakeholders explaining that OCR is undertaking a comprehensive review of Title IX regulations, policies, and guidance documents pursuant to President Biden's Executive Order. OCR's review will include soliciting feedback from students, educators, and others with interest and expertise in Title IX at a not yet scheduled public hearing. OCR will announce the date of the public hearing in the upcoming weeks. After the public hearing, OCR anticipates commencing the rulemaking process to formally amend the Title IX regulations.
Despite OCR signaling imminent changes to the Trump Administration's Title IX regulations which went into effect on August 14, 2020, the letter makes clear that those regulations remain in effect.
Robbins Schwartz will continue to monitor Title IX developments as the Department of Education transitions from the Trump Administration to the Biden Administration. Please contact a Robbins Schwartz attorney with any questions pertaining to Title IX issues.