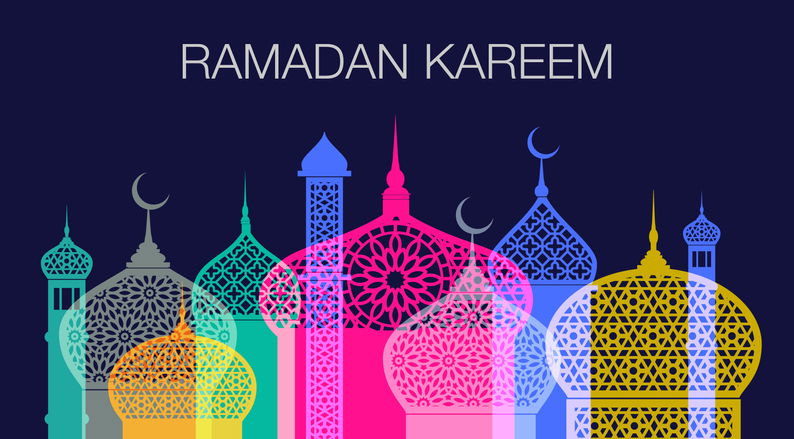 DID YOU KNOW?
Ramadan, one of the months in the Islamic calendar, was also part of ancient Arabs' calendars. The naming of Ramadan stems from the Arabic root "ar-ramad," which means scorching heat. Muslims believe that in A.D. 610, the angel Gabriel appeared to Prophet Muhammad and revealed to him the Quran, the Islamic holy book. That revelation, Laylat Al Qadar—or the "Night of Power"—is believed to have occurred during Ramadan. Muslims fast during that month as a way to commemorate the revelation of the Quran. The Quran consists of 114 chapters and is taken to be the direct words of God, or Allah. The hadith, or accounts by the companions of Prophet Muhammad's thoughts and deeds, supplement the Quran. Together they form the religious texts of Islam.
How Ramadan is Observed
The holiest month for Muslims, Ramadan, falls on a different date every year due to the cycles of the moon. In 2023, Ramadan started on the evening of Wednesday, March 22, and will finish on the evening of Friday, April 21.

Ramadan is celebrated with a period of Sawm (fasting), holding communal meals, and spending time with friends and family. Fasting is one of the five pillars of Islam alongside Shahada (Faith), Salah
(prayer), Zakat (charity), and Hajj (pilgrimage to the holy city of Mecca).

Muslims have an early morning meal before dawn, known as suhoor or sehri. They do not eat or drink anything – including water – until they break their fast after sunset for the evening meal, called iftar or fitoor. Fasting is recommended for only those in good health and not certain groups such as:
Those who are sick or ill and whose health will be affected by fasting
Prepubescent children
Pregnant and breastfeeding women
Menstruating women
Travelers
The ending of Ramadan is called Eid al-Fitr or "the festival of the breaking of fast" and begins at the sight of the first moon. Most celebrate at their local mosque. It's traditional to wear new clothes and, on the way to the mosque, to eat something sweet, such as a date, and recite a short prayer, called a takbeer.
Spotlights
Keith Ellison became the first Muslim to serve in the House or Senate. Ellison routinely had to combat Islamophobia and anti-Muslim sentiment. He used his seat on the Financial Services Committee to extend protections and greater opportunity to working-class and minority Americans in the aftermath of the Great Recession. In a speech on the House Floor Ellison explained that his progressive message "[is] about a lot of important things to help the quality of life for Americans, Americans of all colors, all cultures, and all faiths, Americans who serve in our Nation's military, who serve us as public employees, Americans who are looking out for us every day to live a high quality of life, to send their kids to school and have a chance at education, to have a decent, respectable retirement, to have some health care, to be able to earn a decent living."
Zaid Shakir is a prominent American Muslim scholar and a cofounder and senior faculty member of Zaytuna College in Berkley, CA. He is regularly included as one of the Western world's most influential Muslim scholars in The Muslim 500, an annual ranking edited by John Esposito and Ibrahim Kalin. He
has taught courses in Arabic, Islamic spirituality, contemporary Muslim thought, Islamic history and politics, and Shafi'i fiqh at the College. He speaks and writes on a wide range of topics, and he travels frequently across the United States to support institution-building projects in the Muslim community. In 2007, he was a signatory of the 2007 letter "A Common Word Between Us and You," an appeal for peace and cooperation between Christians and Muslims, and in 2016, he presided over the public memorial for Muhammad Ali.
Ibtihaj Muhammad is a Duke alum and American Fencing Olympic bronze medalist, five times Senior world medalist, and world champion, and in 2016 she became the first American woman to compete in the Olympics in a hijab. Prior to her bronze Olympic medal, Muhammad opened up her own clothing company, which aimed to bring modest, fashionable, and affordable clothes to the U.S. The first Barbie with a hijab was modeled in her likeness as part of the "Shero" line of dolls.
SOURCE: https://www.nationalgeographic.com/culture/article/ramadan
Local Dining for Iftar
Sabri Nihari (Pakistani)
2502 W. Devon Ave., Chicago, IL 60659 (2019 Michelin Bib Gourmand Selection)
Kabul House (Afghan)
2424 Dempster St., Evanston, IL 60202
Shibam Restaurant (Yemeni)
9052 S. Harlem Ave., Bridgeview, IL 60455 (additional locations in North Park and Mayfair)
Shokran (Moroccan)
4027 W. Irving Park Rd., Chicago, IL 60641
Kabobi (Persian and Mediterranean)
4748 N. Kedzie Ave., Chicago, IL 60625
Ghareeb Nawaz (Indian & Pakistani)
2364 N. Lincoln Ave., Chicago, IL 60614