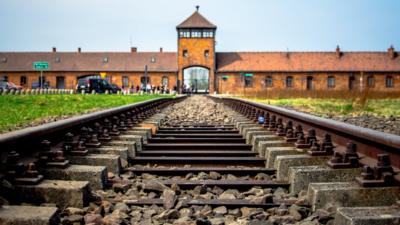 International Holocaust Remembrance Day
January 27, 2022
What is International Holocaust Remembrance Day?
The United Nations General Assembly designated January 27—the anniversary of the liberation of Auschwitz-Birkenau—as International Holocaust Remembrance Day. On this annual day of commemoration, the UN urges every member state to honor the six million Jewish victims of the Holocaust and millions of other victims of Nazism and to develop educational programs to help prevent future genocides.
Introduction to the Holocaust
The Holocaust was the systematic, state-sponsored persecution and murder of six million European Jews by the Nazi German regime and its allies and collaborators. The Holocaust was an evolving process that took place throughout Europe between 1933 and 1945.
Illinois Holocaust Museum and Education Center
The mission of Illinois Holocaust Museum & Education Center is expressed in its founding principle: Remember the Past, Transform the Future. The Museum is dedicated to preserving the legacy of the Holocaust by honoring the memories of those who were lost and by teaching universal lessons that combat hatred, prejudice, and indifference. The Museum fulfills its mission through the exhibition, preservation, and interpretation of its collections; and through education programs and initiatives that foster the promotion of human rights and the elimination of genocide.
In 2019, Illinois Holocaust Museum & Education Center received a 90% increase in inquiries from schools and individuals looking for support as they grapple with hate incidents. This toolkit is designed to share practical tools and resources that can be used immediately by administrators, educators, and parents who need to address hatred in their community.
Famous Figure
Elie Wiesel was a Romanian-born American writer, professor, political activist, Nobel laureate, and Holocaust survivor. He authored 57 books, written mostly in French and English, including Night, a work based on his experiences as a Jewish prisoner in the Auschwitz and Buchenwald concentration camps.
Book
Maus is a graphic novel by American cartoonist Art Spiegelman, serialized from 1980 to 1991. It depicts Spiegelman interviewing his father about his experiences as a Polish Jew and Holocaust survivor. The work employs postmodern techniques, and represents Jews as mice and other Germans and Poles as cats and pigs.
Movies